We believe that creating a diverse and inclusive team of employees creates a successful work environment. Whether a seasoned veteran or high school graduate, Crisdel provides excellent career opportunities within the civil construction industry, and even more specifically, heavy highway Construction, utility infrastructure, site development and asphalt and concrete paving. From manual labor to design engineering and everything in between, we are always looking for talented individuals to join our team.
CRISDEL WAGE AND BENEFITS PACKAGE
At Crisdel, we take pride in our workforce and are proud to employee the most talented individuals in the industry. We attract the best talent by offering competitive wages and a comprehensive employee benefit package including; healthcare coverage, retirement savings, life insurance, paid time off as well as employee training and development.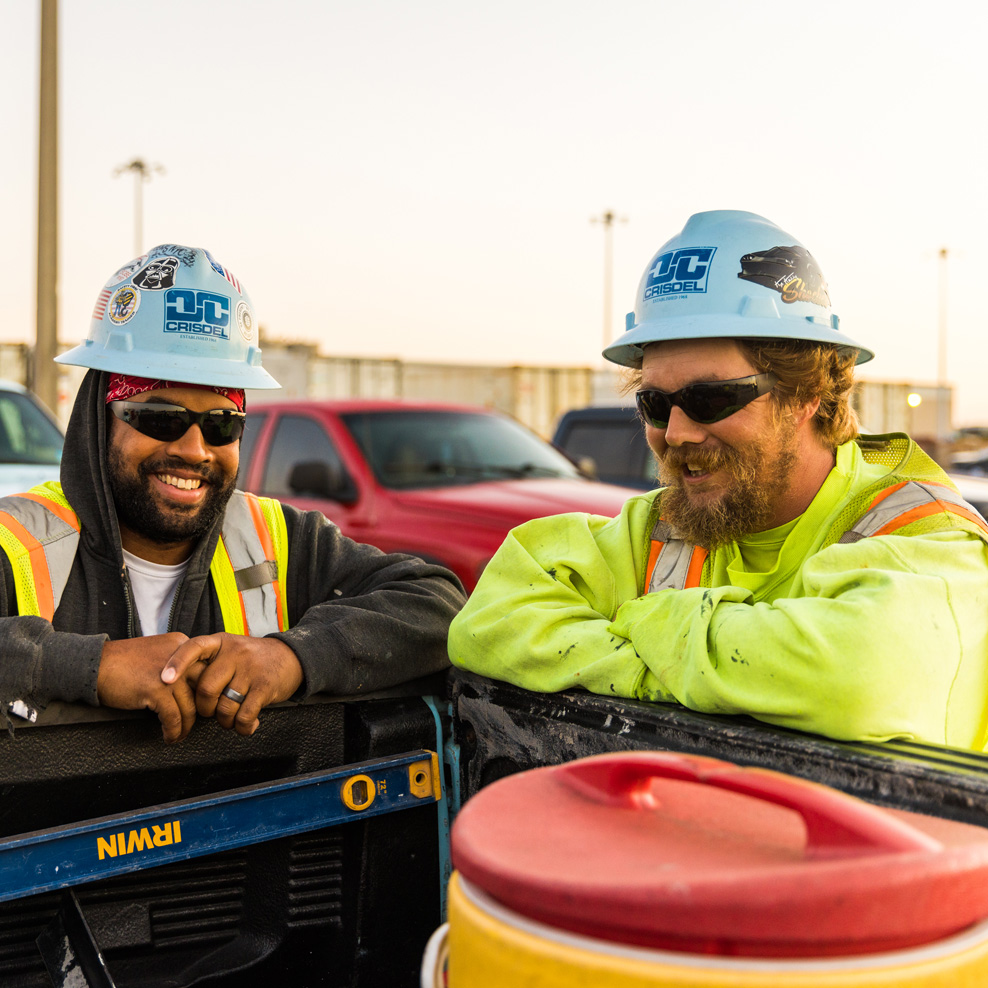 COMPREHENSIVE EMPLOYEE BENEFITS
Medical Plan
Dental Plan
Vision Plan
Life Insurance
Corporate Profit-Sharing Plan
401k Retirement Plan
Vacation and Holiday Pay
Training & Development Opportunities
Sick Pay
Short-Term Disability Insurance
Please contact our Human Resource department at 800-564-8892 should you have any additional comments or questions regarding our employee benefits.
KICK START YOUR CONSTRUCTION CAREER WITH OUR INTERNSHIP PROGRAM
Our summer internship program is designed for college students seeking future construction careers. Through this program, college students will participate in an array of practical, hands-on experience both in the corporate headquarters and field locations.
We work in conjunction with the Construction Industry Advancement Program (CIAP) Summer Internship Program to recruit dedicated and responsible students looking to learn more about the civil construction industry.
If you are interested in a Summer Internship with Crisdel, please submit your resume and contact information to employment@crisdel.com.
Crisdel Group, Inc. is an equal opportunity employer. In order to provide equal employment opportunities to all individuals, employment decisions at Crisdel will be based on merit, qualifications and abilities. It has been and will continue to be the policy of Crisdel not to discriminate on the basis of race, creed, color, religion, national origin, age, ancestry, nationality, genetic information, marital or domestic partnership or civil union status, sex, gender, disability, pregnancy, affectional or sexual orientation or any other basis protected by federal, state or local law with regard to all personal actions and all phases of recruitment and/or employment.